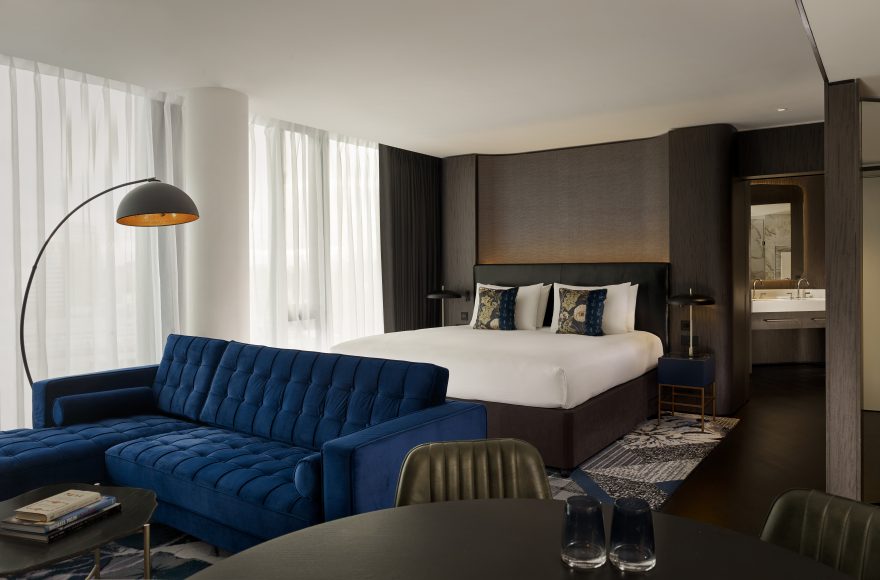 Fileturn delivers stunning results during global pandemic
Feb 22 2022
Fileturn delivered 464 bedrooms, 324 m2 of conference facilities, two restaurants – STK Steakhouse and Bao Yum and a single lane bowling alley at The Westminster London, Curio Collection by Hilton on schedule whilst dealing with the ever-changing constraints of a pandemic. We worked within the safety regulations specified for Covid19 – co-ordinating the work so that each trade worked within the required safe spacing. This demanded exceptional planning and organisation.
The award-winning design for the hotel was based around the hotel's location – near MI5 London headquarters. Guests can choose from 8 unique room styles depending on their requirements. Staying at The Westminster will certainly be a memorable experience from the stylish bedrooms, the choice of dining and even the opportunity to hire the private bowling alley for some bowling fun.
As reviewed recently:
Stayed here over the bank holiday weekend with my family. The bedroom corridors are dark, cool and mysterious - the theme of the hotel. The bedrooms are beautiful and very chic, with a luxurious feel to them. The bathroom is integrated into the bedroom which is the future of hotel design. The shower is amazing with brilliant force, just what you need in the morning. The bar and restaurant (STK) is amazing and even has a bowling alley for sole use. The food was really high quality and service was impeccable as expected from Hilton and STK. Breakfast service has a really good offering and the staff are so helpful. They catered for our needs and special requests. I would definitely recommend this hotel and the renovation is beautiful.